I'm continuing my Tom Ellis TV show marathon. My love for this wonderfully awesome actor keeps exponentially growing with each TV show. I can check Fox's Lucifer and USA's Rush off my list. Each are unconventional dramas with plenty of witticism, sarcasm, and dark humor. Time to switch things up a bit. I metaphorically travelled across the pond to the UK for the next show. I'd read good things about BBC's Miranda. It's important to maintain an open-mind when approaching a new TV show.
Miranda is a comedic sitcom created and written by Miranda Hart. This show was developed from Hart's semi-autobiographical BBC 2 Radio comedy, Miranda Hart's Joke Shop, from 2008. The main character, Miranda, doesn't feel like she fits in society at all. She is 6'1'' and awfully clumsy with a child-like sense of humor. Miranda is a lovably awkward comedy revolving how the main character somehow always ends up in socially awkward situation on a daily basis. She is quite socially inept. Yet, Miranda embraces this flaw as part of her quirky personality. Despite being 34 years old, Miranda has no idea how to truly be a grown-up adult. She is always a kid at heart. Yet, she is constantly striving to be independent and forge her own path in life.
I was a bit skeptical of whether I'd actually like BBC's Miranda. The pilot episode most definitely won me over. It had me busting out in hearty laughter. Honestly, it has been a while since a sitcom TV show has had me in intense peals of laughter. I even clapped my hands aloud often watching Miranda episodes. (Side note: My family gave me a fair share of odd glances as I was watching this show. I couldn't suppress my laughter or joyous seal claps.) Anyway, this awkward cringe comedy sitcom easily grew on me.
Slapstick comedy is a quintessential element. This involves exaggerated physical activities exceeding the boundaries of normal physical comedy. Miranda's character is lovably clumsy by nature. It often leads to very embarrassing moments in social situations.
Miranda incorporates one element you rarely see in TV shows. The main character breaking the fourth wall and directly talking towards the audience. I've honestly only seen this element in very few of my TV shows and movies. Showtime's House of Lies and Marvel's Deadpool. In the opening scenes of every episode, Miranda converses with the audience to catch us up on what's going on in her life. Also, she often breaks the fourth wall when reacting to her awkward actions in social situations. Breaking the fourth wall enables the audience to better understand fascinating nuances of Miranda's quirky personality.
Besides the main character, there are plenty of fascinating characters among the main cast ensemble. Stevie Sutton. Gary Preston. Penny. Tilly. Miranda explores the dynamic relationship she has with each of these characters. So much history with each character.
[From left to right: Tilly, Gary Preston, Miranda, Stevie Sutton. Penny]
Stevie Sutton is Miranda's childhood best friend. She is the assistant manager at Miranda's joke/gift shop. Although, Stevie essentially manages the business aspect of the joke/gift shop. Miranda lacks any sense of business. She doesn't mind taking on this immense responsibility. The best friends enjoy the opportunity to work together. Stevie has some odd quirks despite externally appearing all put together. In the pilot episode, it is obvious why Stevie and Miranda are very close best friends right off the bat. Miranda frequently asks her best friend for advice. Stevie knows Miranda struggles with everyday adult life. These struggles typically land her in socially awkward situations. Miranda can be emotionally vulnerable with her best friend. Stevie is a very important person in Miranda's life. Stevie is basically the closest thing to a sister.

Gary Preston is Miranda's old friend from university. He is the friendly, handsome chef at the restaurant next door to her joke/gift shop. Gary eventually buys the restaurant from the owner, Clive Evans, in Season 3. Throughout the series, the restaurant is one of Miranda's favorite hangout spots. It's not often you remain close with your university friends many years after graduation. Based off their conversation interactions, you can immediately tell they are close friends. Miranda doesn't really have too many friends. Gary enjoys Miranda's company despite her odd behavior in social situations. She can be her lovably quirky self around Gary.
In the first two seasons, the show explores the underlying attraction between these two characters. Neither want to act on their romantic feelings for the other in fear of ruining their close friendship. Mere friendship is no longer enough at some point. Gary and Miranda's dating attempts have its highs and lows. Despite being confidence and outgoing, he also suffers insecurities when it comes to romance and dating. It's one thing Miranda and he have in common. They must overcome their insecurities to truly be ready to pursue a romantic relationship. Through the good and bad times, Miranda and Gary cannot deny how they can't imagine each other not being in their lives.
(Side note: The wonderful Tom Ellis plays the role of Gary Preston. This is a drastically different role from Dr. William Rush in USA's Rush and Lucifer Morningstar in Fox's Lucifer. In every role, Tom brilliantly brings to life the emotional nuances of the character. Don't even get me started on his incredibly versatile facial expressions. Not many actors can make me laugh and cry. Tom Ellis joins this elite club along with few other of my actor biases.)
Penny is Miranda's overbearing mother. Also, she is very obsessed with what her upper-middle class "friends" think about her life and family. Miranda falls very short of her mother's expectations. Penny often vocally expresses her disappointment in Miranda's lack of a respectable career path along with no prospective men to marry. In terms of her expectations, Miranda is a massive disappointment of a daughter.
Penny often meddles in Miranda's personal and romantic life. She can't see how her constant interference prevents Miranda from truly figuring out how to properly adult in life. Yet, Penny does this out of love and concern for Miranda. It's safe to say neither mother nor daughter often see eye-to-eye on matters. Miranda and Penny have a complicated relationship. But it isn't always full of tension and animosity. Over the three seasons, mother and daughter slowly gain new understanding of each other. It dawns on Miranda that some of her odd behaviors come from her mother. In fact, Miranda and Penny grow closer over time. Penny even comes to truly accept Miranda as she is. The scenes with them are always fascinating. You never know what to expect.
Tilly is Miranda's old friend from boarding school. Miranda doesn't have any fond memories of her time at an all-girls boarding school. Tilly almost always refers to Miranda as "Queen Kong". Unfortunately, this boarding school nickname seemed to have stuck with Miranda well into adulthood. Miranda obviously tolerates Tilly. They have absolutely no common interests. In fact, they are polar opposites.
In the beginning, it's very perplexing why Miranda even hangs out with Tilly. Penny wishes her daughter was more like Tilly. Tilly gets along rather swimmingly with Miranda's mum. Being a socialite, it makes sense that Tilly has a self-centered personality. She makes no efforts to conceal her narcissistic tendencies in social situation. We later discover that Tilly acts the way she does being afraid to reveal her flaws and insecurities to people. Like Penny, Tilly is very conscious of what upper-middle class society things about her. Over the seasons, she becomes slightly less vain and a decently likable character in the show. Miranda in no way considers Tilly her best friend. Yet, they mutually care for each other.
With a fascinating menagerie of characters, Miranda has an endearingly quirky storytelling style. The recurring characters grow on you as well. The ones that stood out to me were Clive Evans, "Dreamboat" Charlie, Michael Jackford, and "Random Customer". It makes sense that Miranda has the most character development throughout the show. Penny, Gary, Stevie, and Tilly each have their own character development within the plot arcs. Just not as drastic as Miranda's storyline.
Often, TV shows have multiple backdrops for the scenes. But majority of the scenes take place in three locations. Miranda's flat. Miranda's joke/gift shop. The restaurant next door. You see other various backdrops occasionally in scenes. Those three locations are core central to Miranda storylines.
Miranda seasons didn't air consistently back-to-back. Season 1 aired between November to December 2010. Season 2 aired between November to December 2010. Season 3 aired between December 2012 to January 2013. The two-part episode finale aired on December 25, 2014 and January 1, 2015 respectively.
The creator and writer, Miranda Hart, said that there was a possibility for the return of Miranda in the future. I really hope this wonderfully quirky series returns with more episodes. I'd love to see what shenanigans Miranda and gang get up to. Plus, the focus would drastically shift from Miranda's single life to married life with Gary. That will surely provide interesting storylines.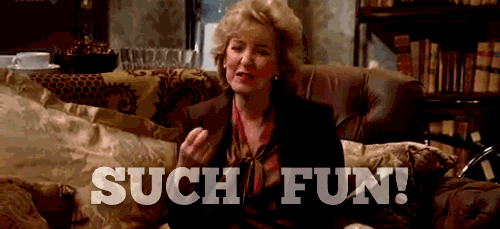 This show explores the tumultuous journey of self-discovery for the main character. Miranda navigates the daily struggles of acting like a functioning adult. Yet, she is always a child at heart. Out of all her insecurities, Miranda struggles the most with her lack of confidence. This often prevents her from living life to the fullest. She frequently questions if people can truly appreciate her personality. Quirks and all. Over the three seasons, Miranda slowly comes into her own being.
Miranda consists of three seasons in addition to two episode specials to wrap up the show. That's a total of 20 episodes. Best of all, every episode is only 30 minutes long. It took 2.5 days to binge marathon this quirky sitcom. From start to finish, there was plenty of smiling, tears of laughter, and seal clapping. Slapstick comedy is the main element of this show. I can see why people love this awkward comedy sitcom.
This endearingly awkward British sitcom is full of marvelous heart and soul. It doesn't take itself too seriously. The right balance of drama and comedy.  If you're looking for an unconventional British TV series, I'd highly recommend checking out Miranda.